These past few months have been very eventful; from the passing of the innovative rapper, entrepreneur, and activist Nipsey Hussle to the hot girl summer takeover and jawn wick setting the tone of police standings in Philadelphia. Now that it's fall, time to get back in those feelings and make the best of the closing year. This is personally my favorite season because it's eventful, the weather is comfortable to maneuver in, and it's a time to assess. September is like the last kick of summer but you get a slight taste of fall ever so often; October brings fall weather and Halloween cheer, then it's time to cozy on up for the holidays in November and December. As you get older the years fly by, it's like the year goes from January to June to September, next thing you know we start to scramble to accomplish all of the new year's resolutions we put off while attempt to get ready for the busiest time of year. Luckily I got y'all with a cozy season starter pack for this upcoming cozy season.
This is the most profitable time of year. All of the cool shit is about to drop and good deals are right around the corner. Even if you're not a festive individual you're still a bit more likely to indulge around this time of year. The first thing in the cozy season starter pack is a financial plan for now throughout the end of the year. There are only three, months, left. Write down all your bills, your savings goal, things you may be interested in buying or experiencing, and use that to get an idea of how much you need to make. Then, brainstorm ways to make sure you get all the money you need to get everything you want and need the rest of the year. My favorite financial resource is The Penny Hoarder( https://www.thepennyhoarder.com/?aff_sub2=homepage ) because they provide so much in-depth information regarding anything finance; from side hustles to building credit to home buying and insurance. Another really good resource for tracking your finances is TrueBill. This app is phenomenal because it tracks your income, spending, bills, and allows you to make budgeting plans. It works in real-time and sends you notifications when bills are coming up or you go over budget. I love the month-by-month display of my money because it gives me initiative to exceed income each month.
Next up, you can not!
AND I MEAN YOU CAN NOT!
Tell me that the f in fall is not for fashion. New threads are ideal for the upcoming season as well since it's time to store the shorts and sundresses away. F/W looks beat S/S looks any day. You can be a lot more flexible and intricate with your outfits because with the chilly weather you can layer it up, adding depth to your aesthetics. Trends are cool but wear what makes you feel comfortable; if you are looking for inspiration to revamp your look I highly suggest following PR and fashion pages on social media such as @heraestheticc, @embodiedbeauty or @pauseonline all on Instagram. Also, check out what local designers have to offer because these are the places that larger fashion houses snag their ideas from.
When it comes to clothes shopping this cozy season think to yourself : -What looks inspired me? -Will I wear this? How many different ways can I style this piece? Do I have enough things to pair with this or will I have to buy some? -What do I need more of? What are some things I stray away from that I could incorporate into my wardrobe this year to catch people off guard and challenge myself? -Is it worth the price point? Can I find a dupe? -What are the colors I wear the most and what are some complimentary/contrasting colors I can add to my collection to reinvent my clothes? -Is there anything I can take to a tailor to get altered?-Are there any events I need to prepare for?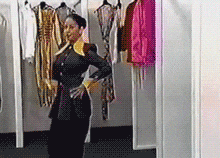 "I can't wait until fall until I can really start dressing"
~Everyone, myself included
This last portion is my favorite and it has two parts so I suggest getting a pen and paper right quick before we get into it. Lurking around the corner is the most menacing holiday of them all, my personal favorite, Halloween! I love this scary holiday of oddities because I can finally binge-watch horror or psychologically thrilling movies and dress up as the one thing or person that has inspired me most throughout the year. There are so many different ways to spend this spooky day; inside with friends, trick or treating with the kids, or at a costume party with friends. I know it can be difficult to figure out which you should actually do so let us make it a bit easier for you. Since I was in fifth grade, horror movies have been my genre of choice, and over this period, I have seen hundreds of horror films. Here are my top 20 scary movies that are actually scary.
**********
1. V/H/S Series
2. The Conjuring
3. As Above So Below
4. Southbound
5. The Terrifier
6. The Exorcism of Emily Rose
7. Ju On
8. The Strangers
9. The Ring
10. Goodnight Mommy
***********
***********
11. Sinister Series
12. Get Out
13. The Eye
14. Insidious Series
15. 13 Cameras
16. The Babadook
17. Paranormal Activity Series
18. The Last Exorcism
19. SAW series
20. SPLIT
***********
If you're looking to take it down a notch my recommendation would be to watch ABC'S 31 nights of Halloween including classics such as Hocus Pocus, Monster House, Goosebumps, and Ghostbusters! (https://www.goodhousekeeping.com/life/entertainment/a27912659/freeform-31-nights-of-halloween-2019-schedule/ ) My only concern is that there is no Coraline in their lineup, how could they forget the blue-haired, yellow raincoat wearing escapism icon? Truly a whimsical creepy classic.
Don't know who needs to hear this but if you are physically, mentally, and spiritually able, go out and celebrate Halloween folks. If not for the fright do it for yourself; this expressive holiday is the only day you can dress as whomever or whatever you want. My costume ideas usually are rooted in anime, my favorite movie/tv show characters, a meme, or an inanimate object that I am fond of. Start there then make it look sexy! Or scary, your choice. Even if you don't dress up, seeing people exercise their creativity to alternate their reality for just a day is an activity and entertainment in itself. Get outside and take up space!
The dropping temperature and upcoming series of holidays tend to trigger a period of reflection upon the past few months and months to come; where our priorities are, things we have to complete before the year ends, and things we want to do the next year are all factors weighing on our chest. Don't fret and take it one day at a time. Strategize your adulting responsibilities before anything, put in the work, then start having fun! Work smarter not harder. Work hard, play hard.
Tell me what looks you're looking forward to serving this fall-winter? Did any Fashion week shows inspire you? Are you doing anything this Halloween?